Ons. 25. sep. 2019 FULL TILT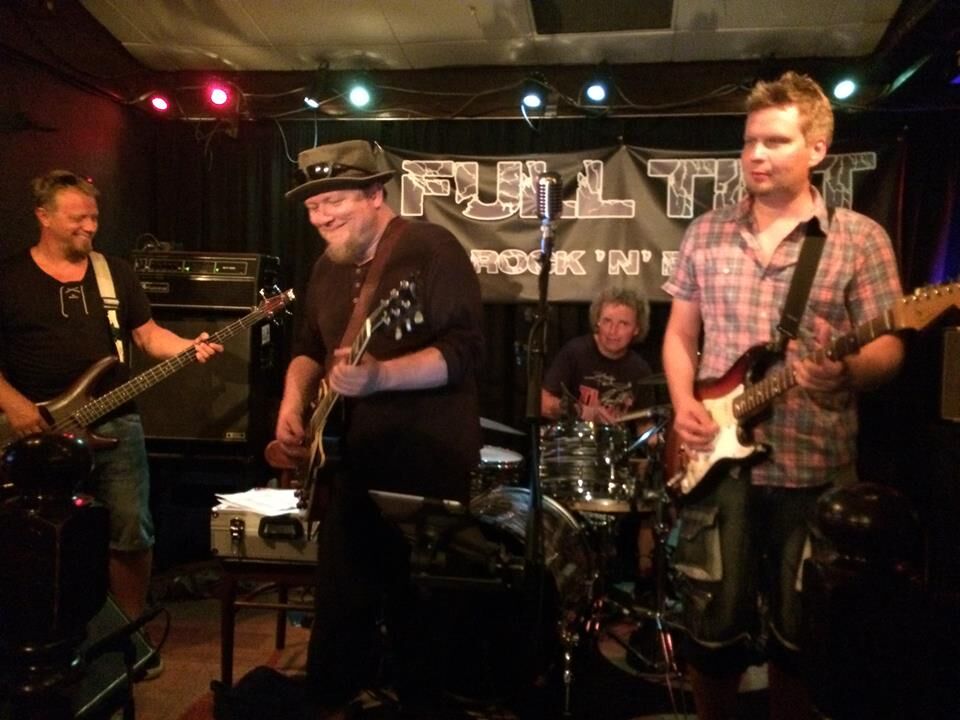 alt="Bilde av band ikke tilgjengelig">
Bandmedlemmer:
FULL TILT er:
Vegard Brox – Gitar/Vokal
Tore Kristensen – Bass/Vokal
Arild Skjæran – Gitar/Vokal
Kristian Moen – Trommer (også kjent fra dansebandet Jet Set)
FULL TILT er et band fra Stavanger som har holdt sammen i et uvisst antall år.
De spiller vanligvis det aller beste av Classic Rock fra 70/80-tallet, men tar for anledningen et litt mer «Bluesy» repertoar til Bluesklubben. Vi gleder oss uhemmet til å høre dette markante og energiske bandet på Sandnes Brygge, onsdag 25.09-2019
Pris: kr. 200 ,- (Medlemmer kr. 150,-)
Ons. 18. sep. 2019 John Papa Gros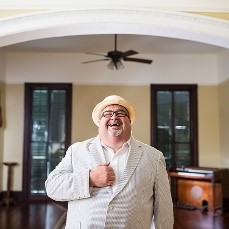 alt="Bilde av band ikke tilgjengelig">
Bandmedlemmer:
John "Papa" Gros - Keyboard-piano
DENNE KONSERTEN SPILLES PÅ TRIBUTE, pga arrangement hos Sandnes Brygge
John "Papa" Gros (pronounced "grow") is a bedrock New Orleans artist, a keyboardist, singer and songwriter who draws on funk, rhythm & blues and Americana song craft, who also knows his way around the Mardi Gras music repertoire about as well as anyone. Like Allen Toussaint and Dr. John, Gros is a proud local who carries on the New Orleans music tradition, both honoring its past and shaping its future.
After kicking off his career as an organist and pianist, for George Porter Jr.'s Runnin' Pardners, during the 1990s, Gros formed the funk group Papa Grows Funk in 2000. For 13 years, the band performed every Monday night at the Maple Leaf Bar, delivering greasy, groove-heavy Big Easy funk, while with releasing six critically-acclaimed albums and touring the world, carrying their brand of New Orleans' music to far-flung places.
Papa Grows Funk called it quits in 2013. Gros resumed is role as a top sideman for many Nola artists — including Better Than Ezra, Little Feat, Anders Osborne, The Metermen, The funky Meters, and The Neville Brothers. Finally, Gros began focusing once again on songwriting and his solo career — which began in 2004 with his album Day's End, (which was picked as The best Roots Rock Record of 2004) — by prepping a second solo record that focuses on the full range of his musical influences and abilities. Thus River's on Fire was born in 2016.
Sjekk ut JOHN "PAPA" GROS - " Cocaine and Chicken Fricassee" på Youtube:
https://www.youtube.com/watch?v=SmC3sOItsI4
Pris: kr. 200 ,- (Medlemmer kr. 150,-)
Ons. 11. sep. 2019 Bex Marshall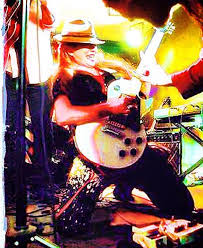 alt="Bilde av band ikke tilgjengelig">
Bandmedlemmer:
Onsdag 11 september kommer denne Britiske bluesartisten med bandet sitt til Sandnes Bluesklubb. Det blir garantert en kveld helt utenom det vanlige. Her blir det heftig rå blues og svingende rock'n roll. Da er det bare å møte opp og nyte kvelden og musikken.
UK British Blues Award winner and 4 times European Blues Awards nominee Bex Marshall's unique style of guitar playing is a combined technique of slide, blues rock, ragtime and roots pickin'.
Her voice is a powerful melting pot of old black woman's heartache and rock diva soul. Bex is a writer of distinction and notability, she pushes the boundaries of blues, her songs have been called timeless, touches of genius, and now she tours internationally solo or with a three piece band which augments her unique style of of virtuoso playing, Bex is literally a musical tornado She also picked up an award at the UK Blues Awards 2013 for Best British Blues Vocal and Album.
Sjekk ut BEX MARSHALL - "THE HOUSE OF MERCY" på Youtube:
https://www.youtube.com/watch?v=o_9lWKjA1Eo
Pris: kr. 200 ,- (Medlemmer kr. 150,-)
Ons. 04. sep. 2019 Saverio Maccne & Double Ace.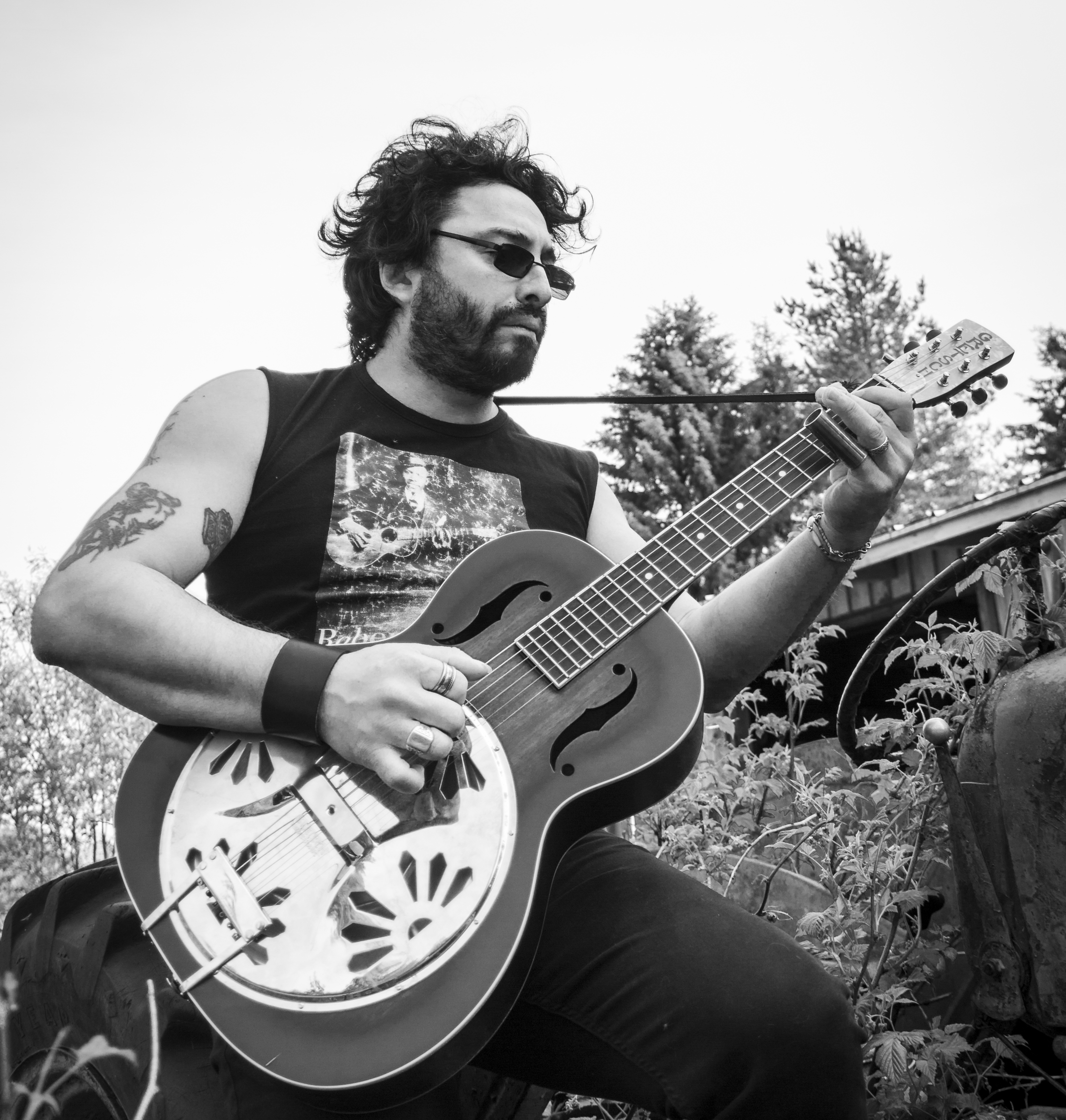 alt="Bilde av band ikke tilgjengelig">
Bandmedlemmer:
Saverio Maccne - Guitar & Vocals
Olli Estola - Drums
Jaakko Konttila - Bass
Saverio Maccne er en argentinsk blues-og rock gitarist, sanger og komponist, som er født og oppvokst i Buenos Aires. Maccne har en enestående, sterk "rooty" sound. Det unike med Maccne`s musikk er basert på hans lange og brede erfaring innenfor flere musikkarter, og på hans talent til å kombinere disse på en spektakulær og kompromissløs måte.
I kjernen i musikken hannes kan man høre hans kjærlighet til blues, og til rock fra 60 og 70 tallet krydret med jazz teknikker. Maccne`s musikk er en slags elektrisk blues; det er rå og upolert og utstråler en orginal, nesten primitiv, voldsom kraft - og allikevel er den perfekt balansert og presis, hver note må være helt klar, og hver note må reflektere utøverens følelser.
Maccne har spilt gitar siden han var en liten gutt. Hans første konserter hadde han i barer i nabolaget fra han var 14 år gammel. Saverio er selvlært, men han lærte mye i gatene i Buenos Aires, spesiellt i bohem strøket rundt San Telmo.
I dag bor Saverio Maccne i Finland, og han spiller både i Argentina og rundt i Europa, hvor han har opptredd påulike Blues- og Rock festivaler og på klubber. Maccne skriver sanger både på spansk og engelsk. Han har ute 4 album så langt.
Sjekk ut denne av Saverio Maccne & Double Ace - "Crossing The Crosscurrents" på Youtube:
https://www.youtube.com/watch?v=WgDVD1OGFE8
Pris: kr. 200 ,- (Medlemmer kr. 150,-)
Ons. 28. aug. 2019 Smokin`Joe & The Night Crawlers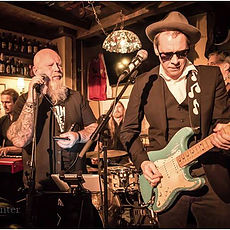 alt="Bilde av band ikke tilgjengelig">
Bandmedlemmer:
Siggi Loftsson - Vokal
Knut Engelsgjerd - Gitar.
Jan Hauge - Piano / Orgel.
Atle Sveinsvoll - Bass.
Kenneth Andersen - Trommer.
Smokin horns;
Kjetil B. Johnsen - Sax
Kjell Rise - Sax
Smokin Joe & The Night Crawlers spiller dampende, rå Texas Rock med sanger av The Fabulous Thunderbirds, Stevie Ray Vaughan, Kenny Wayne Shepherd og Dave Edmunds. "An evening with Smokin Joe and his cats will make you shiver and shake like you never experienced before"!!
Pris: kr. 200 ,- (Medlemmer kr. 150,-)