Ons. 30. mai 2018 Big Creek Slim og Peter Nande Danmark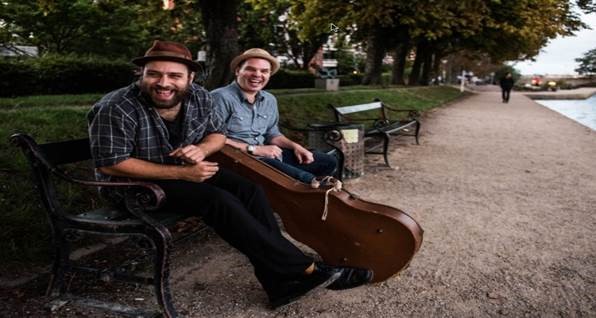 alt="Bilde av band ikke tilgjengelig">
Bandmedlemmer:
Big Creek Slim - Vokal og Gitar
Peter Nande - munnspill og Vokal
Big Creek Slim & Peter Nande Big Creek Slim og Peter Nande gjør blueshistorien "levende" med rå og nærværende blues. De spiller Chicago og Delta blues inspireret af Howlin' Wolf, Muddy Waters, Hooker og Sonny Boy Williamson. Årets danske bluesnavn 2015 "Big Creek Slim" har nok Danmarks beste bluesstemme og en feeling som de gamle bluesheltene, mens Peter Nande er kent som en udadvendt virtuos munnspiller og sanger. Big Creek Slim Big Creek Slim, a.k.a. Marc Rune, is a blues artist who was born and raised in Ikast, a small town in Central Denmark. In particular, Big Creek Slim is a master of the pre-WWII country blues of the Mississippi Delta region and early Chicago Blues. For proof, look no further than the 15 live tracks, including six originals, on Good Mill Blues: Greasy Chicken Sessions Vol. 1. You'll get a taste of where he's coming from – stunning solo performances of the works of Son House ("Walking Blues"), Bukka White ("Fixin' to Die"), Muddy Waters ("Louisiana Blues"), Charlie Patton ("Pea Vine Blues") and more – as well as the personal contribution he makes to the tradition with his original songs. Throughout, his voice and guitar work reflect a command of the art form that comes only from a combination of natural gifts and relentless commitment. Good Mill Blues is Big Creek's fifth release and his third in three years on the Straight Shooter label. Keep My Belly Full (2016) and Hope For My Soul (2015) were band recordings – the latter with piano and horns on some tracks – that collectively offered heaping helpings of pre-WWII country blues, early Chicago blues, Louisiana groove, as well as boogie woogie, funk and gospel. Big Creek Slim has been at this for a while now. He discovered his passion for blues in his early teens. He traveled to the United States in 2008 and hoboed around America, writing songs and playing on street corners and in coffeehouses and bars. His travels took him to Teddy's Juke Joint in Baton Rouge, Louisiana, where he met piano man Henry Gray, with whom he recorded his first album, Tumbleweeds, in 2009. One might wonder how and why a 21st century Danish musician would make a definitive personal connection to a musical form created by black Americans in the rural reaches of the U.S. South, thousands of miles (and several generations) from his own place and time. It has to do both with the nature of the man and with nature of the music. "It ain't that much about American or black music as it's about the blues," says Big Creek. "The blues should be a universal feeling and a world patrimony. Why I play them in this style – old, black, American – has something to do with the way I am. I always liked to find the roots of things. I also search for the roots of Scandinavian culture. I played a lot of Irish traditional music, and the roots of Brazilian samba fascinate me." In the roots of the blues, Big Creek found a blend of power and simplicity and, ultimately, a spiritual essence. "The thing that inspired me so about old blues and folk music is the strong sound: Less is more if you play it with attitude. The sound of the Delta blues carries me to a more primitive state of mind, and I get to cut the cheese out of my life, if you know what I mean," he says. As blues music is part of Big Creek Slim, so is his recognition of the conditions that created that music. This awareness fundamentally changed his outlook on life. "In the old American blues, you hear a purity that you don´t find in music nowadays, not in contemporary blues and not in popular music at all," Big Creek explains. "The first blues records are the first recorded sounds of an oppressed people. It´s a very important moment in the history of humankind. It surely opened my eyes and made me a more tolerant person toward the indifferences of human beings, and it taught me how to love myself. I guess that´s why I got to play them so bad." Peter Nande Denmark is a long way from the Mississippi Delta or the south side of Chicago. It's not a likely place to find a genuine mojo hand, or even your basic John the Conqueror root. However, if you believe that blues music communicates a human condition, not just a geographical or cultural one, then you'll no doubt take great pleasure in the artistry of Danish bluesman Peter Nande. Nande is touring in support of his third CD, Jelly Bean Baby: California Sessions Vol. II, recorded under the auspices of California-based producer and blues artist James Harman. The CD affirms and documents Nande's emergence as a bona fide blues songwriter, singer and harp man, and features a diverse mix of raw blues and exotic Caribbean rhythms, flavored with jazzy touches. Nande weaves clever tales around the common theme of human desire and its consequences… stories of infidelity and excess. Nande is not afraid to take his time, telling his stories with a wily grin and anchoring them in the propulsive, hypnotic rhythms and tonal vocabulary of American blues and Caribbean music, flavored with jazzy touches. Harman's considerable artistic influence and production savvy resonate throughout the recording. Jelly Bean Baby builds upon the foundation that Nande laid with Big Boy Boogie, which was nominated for Danish Blues Album of the Year by the Danish Music Awards in 2007, and which figured substantially in Nande's win as Danish Blues Musician of the Year for 2007 by the Copenhagen Music Festival. Under Harman's invaluable mentoring, Nande has learned that the best blues songs tell unique stories, often with an ironic twist, of human desire and human failings. However; Nande is his own man. He sings his own songs, peppering his deep blues roots with reggae, ska and European influences, all distinct from Harman's work, resulting in enticing grooves that you'll find yourself recalling long after the music has stopped. Nande's voice is rich and inviting; his harmonica work is lean, crisp and articulate, each note impassioned, yet purposeful. As is true with most success stories, this one didn't happen overnight. For the better part of two decades, Nande dedicated himself to the passionate pursuit of legitimate blues music. It began in 1988 when, at age 16, he heard the music of Sonny Terry and Brownie McGhee, and Sonny Boy Williamson (I and II) on LPs at the local library. He was inspired to buy his first harmonicas and, in his words, "started to mess around" with the blues. "I was hooked on the sound of blues harmonica and the blues genre," Nande recalls. "I wanted to play the harp, but as I got more knowledge, the blues grew on me. Suddenly I wanted to make songs and my own music, to be a singer and songwriter. It just sort of happened. The music and the ideas for songs were suddenly in my head and had to get out." Nande moved to Copenhagen in his early twenties and devoted himself to studying such blues masters as Muddy Waters, Sonny Boy Williamson, Little Walter and Howlin' Wolf, as well as a younger generation of performers, including Harman, Charlie Musselwhite and William Clarke. It took five years before Nande was ready. In 1998 he founded Nande & the Big Difference, and for seven years apprenticed as a blues musician. In 2002, the band released a self-titled CD and played festivals in Europe, backing Lazy Lester, Harman and others. "I'm a go-getter," Nande recalls. "I contacted the guys who I liked best in the blues business like James [Harman], R.J. Mischo and Gary Primich. I booked and went on tours with them, and asked lots of questions." Nande's group disbanded in 2005. Nande set his sights on recording in the U.S. with American musicians. The dream became reality in 2006 when Nande and his band mate, guitarist Ronni Busack-Boysen flew to California to cut a CD with Harman as producer. Big Boy Boogie was engineered by the remarkably talented Nathan James, and recorded in Nathan's home studio in Oceanside, Calif. Fast forward to 2007: While Harman with his "Bamboo Porch" trio, including Nathan James and Ben Hernandez, toured Scandinavia for three weeks, Harman also gigged at festivals and other shows with the Peter Nande Band. All the while, plans for Jelly Bean Baby: California Sessions Vol. II were underway. Nande prepped for two months with Busack-Boysen prior to the sessions, which took place over two weeks beginning Feb. 1, 2008 in the one-car garage studio of Nathan's new residence in Oceanside. Jelly Bean Baby captures Nande's continuing maturity as a songwriter. With Harman's mentoring, Nande has learned that the best blues songs tell stories, often with an ironic twist, of the consequences of human desire. Give a listen to "Beware Brother," a tale of marital caution set to an irresistible groove; check out the sly reggae-styled double entendre "Slo' Poke," or "Ridin' the Gravy Train," with its lyric about livin' the high life, set to a primal Mississippi blues rhythm. Listen to "Walk the Talk": The song's lyrics condemn an unfaithful woman, but the driving shuffle beat tells a different story, one of a woman shakin' what her mama gave her; somehow, you know she's going to get away with it, at least for a while. These songs work on more than one level, clearly, and bear evidence of Nande's artistry. Having completed Jelly Bean Baby, Nande returned to Denmark knowing that his blue journey is ongoing: Three years earlier, he had a dream of working with American blues musicians. With his second set of California sessions behind him, his progress is there for all to hear. And he keeps moving, with plans to cut a duo album with guitar/vocal partner Tim Lothar, to be produced in Copenhagen by Harman. He also plans work with U.K. musician Big Joe Louis and, in 2010, to record California Sessions, Vol. III. Working with Harman, Nathan James and the other members of his recording line-up has only encouraged Nande to strive to improve even more. "It all makes me happy," he says. "I'm a bluesman to the bone and I feel those 12 bars and a good song. It keeps me going in life!" Jelly Bean Baby, was nominated for Danish Blues Album of the Year by the Danish Music Awards in 2009 www.nande.dk
www.nande.dk www.bigcreekslim.dk
Pris: kr. 250 ,- (Medlemmer kr. 200,-)
Ons. 23. mai 2018 Jam med Njål Møller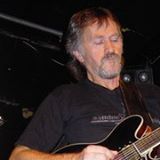 alt="Bilde av band ikke tilgjengelig">
Vi har etterhvert hatt mange jam sessions. Det er alltid like hyggelig at så mange av klubbens medlemmer (og andre) kommer sammen for å spille blues. Kapellmester er også denne gang NJÅL MØLLER. Han har med seg lokale musikere, men hvilket komp pakke han har med seg røper han ikke før de står på scenen. Ta med godt humør og kom og hør hvordan det lyder når musikere som ikke spiller sammen til vanlig trakterer instrumentene. Her dukker det stadig opp nye talenter og veletablerte musikere i skjønn forening.
Pris: kr. 150 ,- (Medlemmer kr. 100,-)
Ons. 09. mai 2018 Rowdhouse Fredrikstad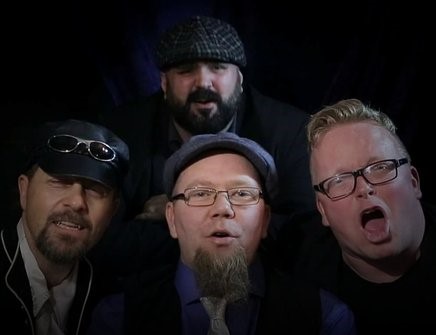 alt="Bilde av band ikke tilgjengelig">
Bandmedlemmer:
Morten Rostad: Gitar
Cato Rostad: Trommer
Morgan Bjørnland: Vokal
Ole Jens Hovda: Bass
Rawdhouse består av fire karer med lang fartstid i musikkbransjen. Felles for dem er solide røtter I blues og rock. Rawdhouse er aktuelle med cd'en "Lights" som betsår av eget materiale. Denne fikk 5 B'er i Bluesnews.(fem av seks oppnåelige) "Tung rock, men den gyngende bluesnerven er aldri lengre enn en låt unna. Forfriskende og ujålete tungt rockende debut oljet med masse glimrende bluesgitar! Johnny Andreassen Bluesnews juni 2016 "Sjelden jeg har hørt noe så bra, og jeg har hørt en del band i mitt lange liv (Connie Garfalk frilans musikkskribent) I tillegg serverer bandet versjoner av godbitene til Hendrix/Cream/Joe Bonamassa mm. "
www.rawdhouse.com
Pris: kr. 200 ,- (Medlemmer kr. 150,-)
Ons. 02. mai 2018 BB and The Blues Shacks Tyskland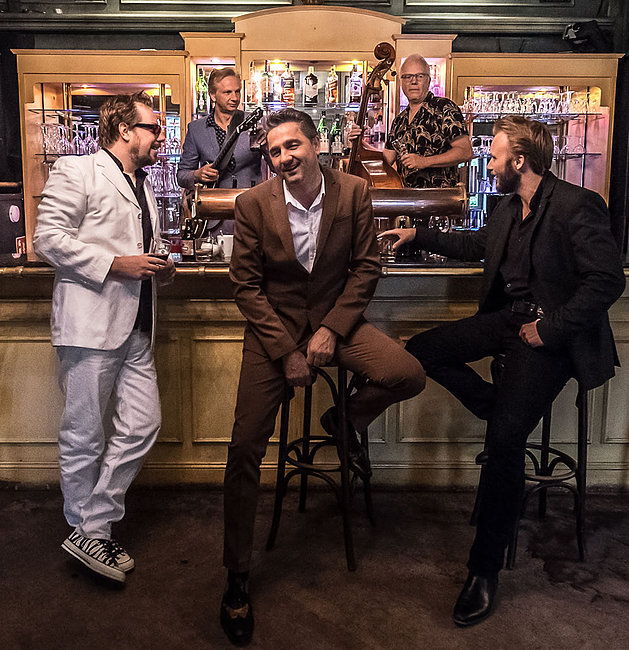 alt="Bilde av band ikke tilgjengelig">
Bandmedlemmer:
Michael Arlt – Sang / Munnspill
Andreas Arlt – Gitar
Henning Hauerken – Bass / Kontrabass
Bernard Egger – Trommer
Fabian Fritz - Piano
Etter 28 år sammen, flere verdensturneer, hundrevis av konserter og et dusin album under beltet er dette bandet «the real deal». De spiller musikken sin så bra at man ikke skulle tro at «BB & the Blues Shacks» egentlig er fra Tyskland. Deres miks av Rythm & Blues og Blues med ett snev av tidlig Soul, har gitt bandet en trofast base av trofste fans over hele Europa, Amerika og resten av verden. Bandet har mottatt flere priser som «German Blues Award» og «Best bluesband of Europe» av Franske musikk journalister. For deres album «Unique Taste» ble bandet æret med prisen fra de Tyske Musikk Kritikere. Mange av oss husker nok fortsatt da de spilte en kjempekonsert for oss i 1998. Nå er de tilbake for å gjøre en minst like god konsert. Les mer på engelsk om du ikke er overbevist allerede. 28 years together, many tours around the globe, thousands of shows and a dozen of albums under their belts, these guys are the real deal. They play their music so well that that it's hard to believe BB AND THE BLUES SHACKS are actually from Germany. Their mixture of blues and rhythm and blues with a touch of early soul, gave the band a solid base of faithful fans all over Europe, America and the rest of World. The band received numerous awards such as the "German Blues Award" and the title "best bluesband of Europe" by French music editors, their CD "Unique Taste" was honored with the award of the German record critics. B.B. & The Blues Shacks stand for great live performances and have also established themselves as a top act overseas. They played in Dubai, at the Doheny Festival in Los Angeles, and at the Byron Bay Festival in Australia with artists like Bob Dylan, B.B. King and Elvis Costello before tens of thousands. Frontman Michael Arlt (vocal and harp) has long been one of the first European blues and souls vocalists. He is also a unique entertainer. His brother Andreas Arlt is an elegant stylist and is now traded as a world-class guitar player. With Fabian Fritz on the piano and the organ, the band was able to commit another genius for the independent sound. Henning Hauerken (double bass and bass guitar), and Andre Werkmeister (drums) deliver the unique drive and groove that you can take home from the concert.
Pris: kr. 250 ,- (Medlemmer kr. 200,-)
Ons. 18. apr. 2018 Chris Kramer Tyskland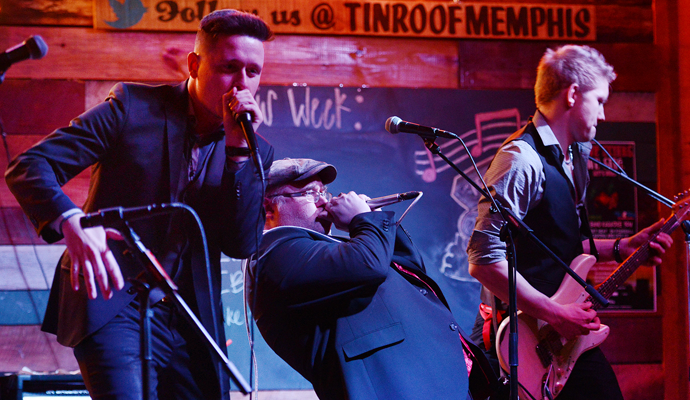 alt="Bilde av band ikke tilgjengelig">
Denne innovative trioen er dedikert til å puste nytt liv i den ærverdige gamle musikalske bluessjangeren. Den litt ville ideen om å kombinere to gitarer, vokal og munnspill med et element fra en annen stil, Beatbox, fungerer rett og slett overraskende bra. Det blir noe helt spesielt og annerledes når gitarer, munnspill, vokal og beatbox smelter sammen og havner i samme spor. Noen ganger tradisjonelt bluesy, noen ganger funky og groove-orientert, noen ganger rått og elektrisk, noen ganger mykt og akustisk med mye følelse. Denne trioen består av meget dyktige musikere, og når de betingelsesløst elsker å utøve sitt håndverk på scenen, gir det utslag i herlig musikk og et like overrasket og entusiastisk publikum hver eneste gang.
Pris: kr. 250 ,- (Medlemmer kr. 200,-)