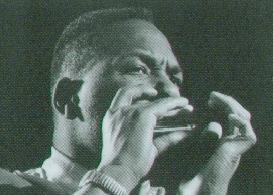 Bandmedlemmer:
Keith Dunn, født i Boston (USA), var bare 6 år gammel da han for første gang oppdaget munnspillet. I ti-års alderen, ble han seriøst opptatt av dette merkelige og enkle instrumentet. Dette ledet til at han allerede et par år etter ble tatt opp som medlem i Blue Lightning Band fra Rhode Island, og gjorde plutselig sin debut innen blues-musikken i svært ung alder, jammende med noen av USA`s fineste blues musikere. Senere vendte han tilbake til Boston, hvor han fikk anledning til å spille med nestorer som Big Walter Horton, Jimmie Vaughan, Scott Hamilton, Stevie Ray Vaughan, Jimmy Rogars, og The Fabulous Thunderbirds. Etter å ha skapt seg et stort navn i USA, Canada og Mexico, tok denne spesielle fargede solo-sanger og munnspiller skrittet mot Europa. De siste årene har han vært bosatt i Nederland, fra hvor han har deltatt i de fleste stor festivaler og konserter rundt om i Europa. Av hans mange CD-utgivelser, er kanskje utgivelsen fra 2000, Alone With The Blues den mest bemerkelsesverdige. Denne platen er et resultat av noe han gjorde året før, nemlig å gå på scenen alene, kun medbringende sin store stemme og munnspillet. Platen ble spilt inn på en dag, og dette gjenspeiler det utrolige lydbildet og stemningen på denne platen, som kun består av stemmebruk og munnspill, utført av en av bluesens største nålevende navn. Til Sandnes Bluesklubb, har han fått med seg et knippe musikalske og dyktige venner; Blue Delivery. Dette bandet er relativt nytt, men medlemmene har lang fartstid bak seg fra en rekke blues-band. Jan Olov Husmo har tidligere besøkt Sandnes med Harry Banks Buzzers, sist under Sykkelbluesfestivalen. Roger har også tidligere gjort seg bemerket, blant annet som trommeslager for Sven Zetterberg under flere av hans turnéer. Juha har uttalt seg litt om sine turnéminner: Mitt beste minne fra turnelivet, var da vi ble innelåst i en bar, med 27 whiskey-sorter. Det verste minnet, er fra dagen etter, da vi våknet etter å ha vært innelåst i en bar, med 27 whiskey-sorter. Dette var forhåpentlig ikke på en av hans turneer med Mojo Buford. Blue Delivery består av: Juha Puro – Gitar Roger Mørck – trommer Jan Olov Husmo – Kontrabass En kveld på Sandnes Bluesklubb med denne gjengen vil absolutt ikke bli en kveld man kommer til å glemme.
Sted:
Entré fra kl. og Konserten starter kl. .
Pris: kr. 0,- Medlemmer kr. 0,- Studenter kr. ,-
Billetter kjøpes på "goticket", eller i døra med kort.