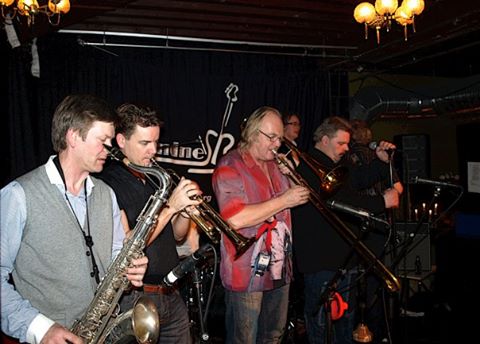 Bandmedlemmer:
Svein Ole "Elvis" Fjelde, Vokal (hard Luck BluesBand/Rattle Snakin Daddies) Oddvar "Sol" Solheim, Gitar (Hard Luck BluesBand/Rattle Snakin` Daddies, Hipshakers) Roald Brekke, Bass (Eric "Slim" Zahl & The South West Swingers, Zydeco Supply, Stavanger BluesBand) Atle Helland Strøm, Trommer (Eric "Slim" Zahl & The South West Swingers, Hard Luck BluesBand, Stavanger BluesBand) Jarle "Charlie" Børresen, Piano/Orgel (Banden, Dickensbandet) Arne Kolstad, Trombone (Midnight Ramblers, Rub a Dubs, Stavanger BluesBand) Gisle Myklebust, Saxofon (Stavanger BluesBand) Per Lund, Trompet (Southwest jazzensamble)
The Sensational Blues Band m/Gjesteartist Andrea. The Sensational Blues Band er en sammensetning av flere av distriktets beste bluesmusikere. De har spilt i så mange år og i så mange band at de trygt kan kalles veteraner innen genren. Av band kan nevnes: Bernad Jenkins, Hard Luck Blues Band, Rattlesnakin' Daddies, Veslefrikk, Zydeco Supply, Tideman's Blue og en rekke andre kjente og kjære. De spiller alt fra neddempet slow-blues til storband-aktig show-blues som får godfoten til å dra deg med utpå golvet for en svingom. Den samlede rutinen i dette bandet borger for spilleglede i alle ledd og et uttrykk fra scenen som publikum trives med. Alle som har hørt denne gjengen - enten sammen eller hver for seg - vet at de ikke blir skuffet! Musikken hentes fra flere stilarter og utføres med en presisjon og nerve som garantert gjør dette til en kveld å huske! Så vær tidlig ute for å sikre deg plass! Det kan fort bli fullt... GÅ lKKE GLIPP AV DENNE KVELDEN VEL MØTT!!!
Sted:
Entré fra kl. og Konserten starter kl. .
Pris: kr. 0,- Medlemmer kr. 0,- Studenter kr. ,-
Billetter kjøpes på "goticket", eller i døra med kort.
GÅ lKKE GLIPP AV DENNE KVELDEN
VEL MØTT!!!