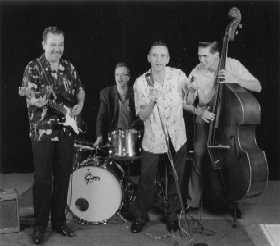 Bandmedlemmer:
Paul & the Blue Delivery Paul & The Blue Delivery har eksistert siden 1998 og har siden det vært aktive i Sverige. Det seneste året har bandet drevet med spillejobber i Norge og Danmark. Det musikalske tyngdepunktet ligger klassisk Chicago-blues fra 40, 50 og 60 tallet. Dette blandes opp med en del jumpblues og rytm?n blues påvirket materiale. Av artister som har gitt inspirasjon kan nevnes Howlin? Wolf, Muddy Waters, Little Walter, John Brim, Jimmy Rogers, Slim Harpo m. fl. Bandet består av: Paul Alfredson - sang, munnspill og gitar. Han har tidligere spilt med bl. a. Harry Banks Buzzers og Boogiecats. Juha Puro - gitar. Han har tidligere turnert med Mojo Buford, som er mest kjent for sin tid med Muddy Waters. Juha spiller også med Gøteborbandet Bluelight Orchestra. Trommeslageren Jim Ingvarson Han har vært aktiv på den skandinaviske bluesscenen i 25 år. I 2000 ble han tildelt den svenske bluespriesen; Janne Rosenquist-stipendet. Tidligere har Jim spilt med bl.a. The Nightcats, Mønsterås Bluesband, The Instigators og Sven Zetterberg. Siden 1998 har han også sittet bak trommene i Bluebirds. Magnus Landshammar spiller både kontrabass og elbass. Siden 1997 har han også spilt med The Instigators. Han Har bl.a. arbeidet med Rusty Zinn, Louisiana Red og Eddie Taylor Jr. Bandmedlemmer: Paul Alfredson - sang, munnspill og gitar. Juha Puro - gitar. Jim Ingvarson - trommer Magnus Landshammar - kontrabass og elbass.
Sted:
Entré fra kl. og Konserten starter kl. .
Pris: kr. 0,- Medlemmer kr. 0,- Studenter kr. ,-
Billetter kjøpes på "goticket", eller i døra med kort.