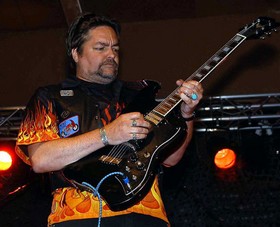 Bandmedlemmer:
Pat Savage Band har underholdt en stor skare rock fans i Amerika og Canada de siste 17 årene, spilt på de store rockeklubbene inkludert: Rock'N'Roll Heaven, The Gasworks, Toronto Woodbridge Tavern, New Way Bar Detroit, Easyriders, Dallas, Club Exit, Chicago, Mingles, The Firehall, London, The Rock Pit, Vancouver, Dinosaurs, Tallahassee og mange, mange flere. Bandet har spilt på et imponerende antall festivaler og rockeklubber, både i Nord Amerika og nå også i Europa. Bandets live opptredender og Cd releasen "Made In Detroit" har fått strålende kritikker i 170 bike & rock tidsskrifter, så vel som i positive artikler og reaksjoner på nettet over hele verden. De tre bandmedlemmene er så samspilte at det er en fryd å høre på. De drar på alt fra ganske rocka ting til roligere sanger - hele tiden i grenselandet mellom rock og blues. Dette blir en skikkelig trivelig kveld for oss som er glad i litt trøkk. Bandmedlemmer: Pat Savage - gitar, vokal Petar Bashir - bass, munnspill, vokal Baukje Westerlaken - trommer, vokal
Sted:
Entré fra kl. og Konserten starter kl. .
Pris: kr. 0,- Medlemmer kr. 0,- Studenter kr. ,-
Kjøp gjerne billetter på forhånd med Vipps - Trykk «kjøp og betal» og søk etter Sandnes Bluesklubb.