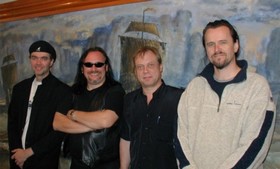 Bandmedlemmer:
Mad & Hungry - i bluesens tjeneste Prosjektet Mad&Hungry er et musikalsk samarbeid mellom blueslegenden John Magnar Bernes og gitarfantomet Mads Eriksen startet i 2000 og fra tid til annen turnerer både inn- og utland med. John Magnar Bernes - bedre kjent som Hungry John - har viet sitt liv til bluesen. Siden midten av 60-tallet har han reist land og strand rundt for å spre sitt "blåtonebudskap", alltid våken for nye impulser og stilretninger innen blues. Han er en av de virkelig store sliterene i norsk musikkliv, en veteran som nyter respekt langt utover landegrensene for sin livslange, lidenskapelige innsats for musikken som ligger hans hjerte nærmest - blues. Eriksen er heller ingen smågutt i den musikalske verden. Han startet sin solokarriere som gitarist og komponist i 1988. Hans andre album ble kåret til "Album of the Month" i "guitar for the Practicing Musician" - den gang det største gitarmagasinet i Amerika. Mad&Hungry spiller en blanding av Hungry John sine blueslåter, Mads Eriksen sine instrumentallåter samt en god del blues- og rock-klassikere. På menyen står rockete saker, Chicago boogie, sensuell shuffle, forrykende rhythm 'n rock og selvsagt en og annen dryppende ballade som gir selv den mest edruelige lytter svikt i knærne. Bandmedlemmer: Mads Eriksen - gitar John Magnar 'Hungry John' Bernes - vokal, munnspill Frank Hovland - bass Zsolt Meszaros - trommer Bandets hjemmeside mangler info
Sted:
Entré fra kl. og Konserten starter kl. .
Pris: kr. 0,- Medlemmer kr. 0,- Studenter kr. ,-
Billetter kjøpes på "goticket", eller i døra med kort.