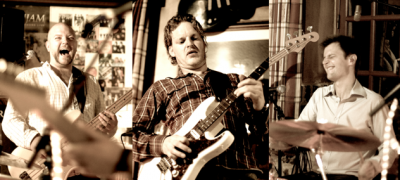 Bandmedlemmer:
Jimmy Guldbæk - Gitar + Vokal Thomas Vadmann - Trommer Dennis O Nielsen - Bass
Denne onsdagen får vi et gjensyn med JIMMI & THE DOUBLE OF TROUBLE fra Danmark! Det er andre gangen JIMI & THE DOUBLE OF TROUBLE gjester Sandnes Bluesklubb. Jimi And The Double Of Trouble er et tributeband for Jimi Hendrix and Stevie Ray Vaughan, og bandet spiller meget energisk på cenen. VEL MØTT!!!
Sted:
Entré fra kl. og Konserten starter kl. .
Pris: kr. 0,- Medlemmer kr. 0,- Studenter kr. ,-
Billetter kjøpes på "goticket", eller i døra med kort.
VEL MØTT!!!