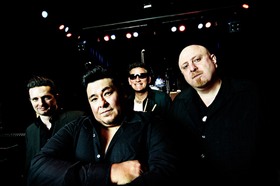 Bandmedlemmer:
Bandet består av Memo Gonzalez fra Dallas/Texas på vokal og Munnspill, Henk Punter fra Amsterdam på trommer, Erkan Özdemir fra Tyrkia på bass og Kai Strauss på gitar og vokal fra Tyskland, han er også bandets lederskikkelse. Musikken er ekte amerikansk blues og stemningen under konsertene er vanligvis enormt bra. Memo Gonzalez and the Bluescasters swinger som ei hengebru i storm sier det britiske musikkbladet Blueprint, mens Texas Blues Magazine lurer på: Hvem er disse gutta? Uten tvil et av de beste live-band på turné I våre dager: Memo Gonzalez & The Bluescasters kombinerer autentisk Texas roadhouse-blues med rock ?n? roll-inspirasjon for å levere konserter det lukter svidd av, Samarbeidet startet i 1995 og har så langt resultert i mer enn tusen livejobber på klubber og festivaler I Europa. Memo Gonzalez, opprinnelig fra Dallas, Texas, og hans europeiske kolleger har jobbet hardt for sin sitt særegne sound som høres så godt på ?Live in the U.K.?. Albumet er tatt op på forskjellige konserter I England og bekrefter MG&TBC?s ry som et meget dynamisk live-band. Ifølge Memo selv: ?Musikken skjer her og nå, vi er ingen juke-box, vi vil sette vårt eget stempel på musikken.? Bandets historie starter på slutten av 80-tallet da Kai Stauss dannet the Bluescasters. Bandet ble snart invitert til festivaler over hele Europa. I 1995 kom deres førte CD: Drivin` With ? 6,000 kilometer unna drev Memo Gonzalez og sprengte nye innslag I Texas-bluesen sammen med gitarstorheter som Paul Size, Johnny Moeller, JimSuhler. Etter at han hadde imponert stort på `Texas Harmonica Rumble` i Utrecht, Nederlands, inviterte The Bluescasters Memo Gonzalez til å bli med dem på deres Europa-turneer. Debut albumet Let`s All Get Drunk And Get Tattooed kom ut i 1996. Ti år senere kontrollerer XXL-Texaneren med rockesleiken enhver scene han måtte entre og forsvarer sin tungvektstittel på munnspill I hvert show! Kai Strauss er enkelt og greit en stor gitarist som tåler sammenlikning med sine samtidige Duke Robillard, Alex Schultz, Rusty Zinn, Charlie Baty and Sean Costello. Dette skriver Scott Duncan i Blues In Britain. Hans fyldige lyd og intense spillestil har gitt ham en solid posisjon i bluese-gitarens sentrum og har gjort ham til en av Europas mest respekterte instrumentalister. Det tyske musikkbladet Gitarre & Bass har viet et helt oppslag til den Troja-fødte bassisten Erkan Özdemir I aprilnummeret I 2006. Henk Punter fra Amsterdam er ny bak trommene. Den siste tilføyelsen har gjort The Bluescasters til et 100% toppband, uansett genre. ?For trettito år siden, da jeg gikk på high school og begynte å bli ordentlig interessert I musikk, falt jeg pladask for rhythm ?n? blues-soundet på lokale radiostasjoner?, mimrer den karismatiske amerikaneren. I skoletida var han kjent som Three Hundred Pounds of Texas Dynamite. ?Senere forandret denne musikken livet mitt og jeg har reist halve jorda rundt.? Ja, det er fremdeles makt i ekte blues. Bandmedlemmer: Memo Gonzalez - vokal og Munnspill Henk Punter - trommer Erkan Özdemir - bass Kai Strauss - gitar og vokal
Sted:
Entré fra kl. og Konserten starter kl. .
Pris: kr. 0,- Medlemmer kr. 0,- Studenter kr. ,-
Billetter kjøpes på "goticket", eller i døra med kort.