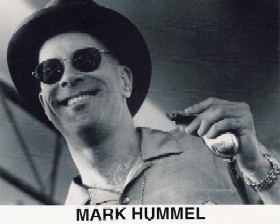 Bandmedlemmer:
Mark Hummel & The Blues Survivors De siste 10-årene har Chicago fått hard konkurranse fra California om å fremfostre gode munnspillere og band-ledere. Vokalist og munnspiller - Mark Hummel - også leder av bandet The Blues Survivors, har i mange år vært den drivende kraft i den såkalte west-coast genren. Hummel er født i New Haven, Connecticut, men vokste opp Los Angeles. Som mange andre har Hummel blitt inspirert av Chicago-baserte munnspillere som Little Walter, James Cotton og Sonny Boy Williamson. Hummel havnet i 1972 i Berkeley, California hvor han slo seg sammen med bluesmenn som Cool Papa, Boogie Jake, Mississippi Johnny Waters og Sonny Lane. Som leder av The Blues Survivors fra 1980, turnerte han med storheter som Charlie Musselwhite, Brownie McGhee, Lowell Fulson og Eddie Taylor. Mark Hummel har utgitt album som ?Up?n Jumpin? ? 1988, ?Hard Lovin? ? 1992, ?Feel Like Rockin? ? 1994 og ?Married To The Blues? ? 1995. Han har valfartet et utall festivaler gjennom årene, for eksempel Chicago Bluesfestival, samt deltatt og vært dommer i ?Hohner Harmonica World Championship? i Tyskland. Hummel har nettopp signert for samme plateselskap som Rod Piazza ? Tone-Cool ? og ga der ut sin sjette CD ? ?Heart Of Chicago?. Hvor han hadde med seg Muddy Waters? tromme-slager Willie ?Big Eyes? Smith og Little Walters? gitarist Dave Myers . Mark Hummel er en ?Road Warrior? og en sann ?Blues Survivor?, som har skapt sitt eget sound og varemerke. Bandmedlemmer: Mark Hummel - vokal, munnspill
Sted:
Entré fra kl. og Konserten starter kl. .
Pris: kr. 0,- Medlemmer kr. 0,- Studenter kr. ,-
Billetter kjøpes på "goticket", eller i døra med kort.