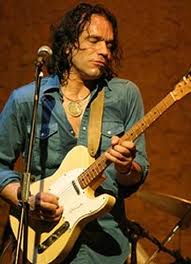 Bandmedlemmer:
Da får vi et gjensyn i klubben vår,nemmelig WOLF MAIL fra Canada.Born in Montreal, Canada and raised in the South of France and California, Wolf Mail grew up as a travelling nomad. He picked up the guitar at the age of 10, listening to Elmore James and John Lee Hooker records. He did his first gig at 14 and ran away from home at 17 to tour with his own band. At age 19 with a few hundred dollars in his pocket and a one-way ticket from New-York to L.A, he relocated to California.He spent the next 10 years, grinding down his chops and paying dues in all the joints that would let him play or not, sometimes jumping onstage impromptu to jam with other artists, travelling up and down California and around 30 other states.When it comes to the love of music, Wolf Mail is an artist who does not compromise, and it has paid off. The original guitarist/singer and songwriter has managed to build a strong international fan base through 20 years of constant touring and the regular delivery of stellar recordings. The release of his "Live Blues in Red Square" from Moscow, Russia and his classic song "Hello" climbing the Top 10 Japanese chart are examples of that. VEL MØTT!!!
Sted:
Entré fra kl. og Konserten starter kl. .
Pris: kr. 0,- Medlemmer kr. 0,- Studenter kr. ,-
Billetter kjøpes på "goticket", eller i døra med kort.