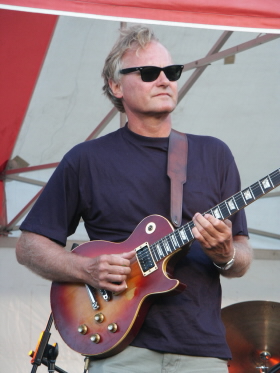 Bandmedlemmer:
The Hammond Experience Trioen består av tre kjente veteraner innen blues, jazz og R&B i Norge. Alle har til felles å ha spilt i Bryggerigangen Bluesband, men også å ha bidratt på flere titalls plater med andre kjente artister. I dette formatet får hver av musikerne plass til å eksponere sin egenart, samtidig som det lille ensembelet gir et rikt og fyldig lydbilde. En av de tre MORTEN GOLTEN Organisten Morten Golten er identisk med The Hammond Doctor, orgelprofessoren som blir ringt opp fra alle kanter av verden for å få lyd i døde orgler. Som om han ikke har mer enn nok med å holde liv i sine egne 16. I trioen fungerer han også som sanger og bassist. Med sine antikvariske fotbasspedaler er han også en visuell opplevelse ved siden av å sette grunntonen i konsertlokalet. Mange vil forbinde Morten med bandet til Reidar Larsen eller Vidar Busk, men få er klar over at han lenge var med i Thailands mest populære rockeband, Carabao som hittil har solgt over 40 millioner CD'er. BENT PATEY Gitaristen Bent Patey var med å starte Bryggerigangen Bluesband i 1978, og var den siste gjenværende fra originalbesetninga. Nylig ble gruppas plate ?Blått Brygg? fra 1979 kåret til månedens klassiker i Blues Music Club, og til tross for sin alder, var denne plata landets 3. mest solgte bluesplate i fjor. Ved siden av Bryggerigangen, har Patey bidratt på over 30 plateinnspillinger for andre artister, men han har også alltid hatt sitt eget prosjekt, ?Pateys Pipe?, med egne låter og varierende besetninger. PER ERIKSEN har fartstid som trommeslager i en lang rekke band helt tilbake til 70-tallet. Blant disse bandene har vi velkjente bluesband som R&B Express, Notodden Bluesband, CIA Bluesband, Buckshot Hunters og Knut Nordhagen & Bluepack. Per har utdannelse fra Musikkonservatoriet i København, og er selv hyppig brukt som pedagog. Han har også utgitt tre kritikerroste soloalbum på Curling Legs Records, plater som heller mer mot groove-jazz og fusion. Bandmedlemmer: Bent Patey - gitar, vokal Morten Golten - hammond, bass, vokal Per Eriksen - trommer
Sted:
Entré fra kl. og Konserten starter kl. .
Pris: kr. 0,- Medlemmer kr. 0,- Studenter kr. ,-
Billetter kjøpes på "goticket", eller i døra med kort.