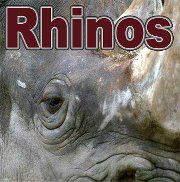 Bandmedlemmer:
The Rhinos The Rhinos er et band bestående av gamle ringrever fra musikkmiljøet i distriktet. Musikken de spiller sammen spenner fra Tom Waits, Neil Young, John Prine, Rod Stewart og Rolling Stones. Leif Arne Bredland har i en årrekke vært en av de mest brukte session musikere i distriktet. Han er også kjent fra band og prosjekter som Verfast, Midnight Ramblers og Dickens Bandet. Han trakterer gitar og kor. Felespilleren og vokalisten Pete Johansen bør være kjent for de fleste fra band og prosjekter som Bror te Larsen, Modesty Blaise, Rabalder og The Tramps m. flere. Kjell Jensen har spilt bass med Nurk Twins, Smalhans, Reidar Larsens Boogie Bastards, Die Bahn og flere andre lokale og nasjonale stjerner. Knut Køningsberg har spilt trommer med mange gode band i distriktet her og burde være velkjent for de fleste. Siste medlem er Eivind One Pedersen på Trekkspill og Elpiano Eivind har spilt med det meste innen Jazz i norge og på de fleste Jazz festivaler i Norge og Europa. Har spilt med AHA, Svein Tangwa, Die Bahn, Randi Tytingsvåg, Frode Gjerstad, JamAha, Audun Kleive, Katja Medbøe,Frode Barth, André Danielsen, Jon Grimsby, Harald Johnsen, Unni Shael Damslora, Morten Halle, Mamadi Jobarteh, Nils Petter Molvær, Nils Einar Vinjor Rutine og spilleglede går hånd i hånd når de nå forener krefter og spiller sin helt unike blanding av Blues, country, rock og folkemusikk. Bandmedlemmer: Leif Arne Bredland - gitarer, banjo og kor Pete Johansen - fele og vokal Kjell Jensen - bass Knut Køningsberg - trommer Eivin One Pedersen - trekkspill og tangenter
Sted:
Entré fra kl. og Konserten starter kl. .
Pris: kr. 0,- Medlemmer kr. 0,- Studenter kr. ,-
Billetter kjøpes på "goticket", eller i døra med kort.