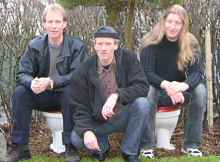 Bandmedlemmer:
Som bandnavnet antyder er dette et band med folk fra både Ingenting og Vind i Gardhol. Et spennende konsept! "Ingenting i gardhol" har gutta kalt dette prosjektet som de nå er ute med. Det er to meget sentrale musikk-kulturer som møtes. Både "Vind i gardhol" og "Ingenting" har på hver sin måte satt solide spor etter seg i distriktet. Repertoaret spenner fra eget stoff på norsk som Dinglebein, andre kjente lokale tekster som Putlaa, Kvalsangen, Hauglandsviså, Kortspel og 4 Mann (og sang) til Metallica og Thin Lizzy. Besetningen spenner fra akustisk til elektrisk sjokk, men er likevel meget publikumsvennlige i utformingen, og satser på presentasjon av låter som folk flest har et forhold til. Bjarte Edland startet som trommeslager i diverse band. På 90-tallet skiftet han ut trommestikkene med gitaren og begynte som trubadur med trommer på føttene. Etter hvert begynte han å spille med andre på denne måten. Ove Morten Grødeland har tidligere spilt i Hellpatrol og Filthy Force. Han spiller fortsatt i ?Ingenting? fra Sandnes. Moby er en meget habil rockegitarist. Jarle Obrestad har røtter tilbake til Vind i Gardhol, Jærrock, Dei- To og LowLanders,?Ø?? og har som soloartist gitt ut EPen 'Et spel' i 2000 og singelen 'Slå lens' våren 2003. Bandmedlemmer: Ove Morten 'Mobby' Grødeland - gitar, bass , vokal Bjarte Edland - gitar, vokal, trommer Jarle Obrestad - gitar, bass, vokal
Sted:
Entré fra kl. og Konserten starter kl. .
Pris: kr. 0,- Medlemmer kr. 0,- Studenter kr. ,-
Billetter kjøpes på "goticket", eller i døra med kort.